NUTELLA BROWNIES WITH HAZELNUTS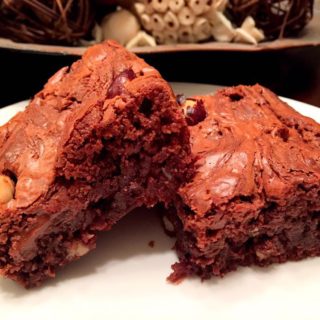 ⅓ cup unsalted butter, softened to room temperature (plus a little more to grease the pan)
½ cup packed dark brown sugar
2 large eggs, at room temperature
2 teaspoons pure vanilla extract
1 and ¼ cups Nutella
½ teaspoon salt
¾ cup all-purpose flour
½ cup roughly chopped hazelnuts, leave some whole for the topping
Preheat oven to 350°F. Grease and line the bottom and sides of an 8-inch or 9-inch square baking pan with parchment or aluminum foil, leaving an overhang on all sides to easily lift the brownies out of the pan when cool. Set aside.
With a handheld or stand mixer fitted with a paddle attachment, beat the butter on high speed in a large bowl until smooth and creamy, about 1 minute.
Add the brown sugar and beat on high speed for 1-2 minutes until creamed. Scrape down the sides and up the bottom of the bowl as needed.
With the mixer running on low speed, add the eggs and vanilla extract. Beat on medium-high speed until combined, then beat in 1 cup Nutella and salt. Mix until smooth and fluffy. Scrape down the sides and up the bottom of the bowl as needed.
Add the flour, mix just until combined. Do not over-mix.
Gently fold the chopped hazelnuts in.
Pour the batter into prepared baking pan. Drop the remaining ¼ cup Nutella on top. Using a knife, swirl the Nutella into the batter. Top with whole hazelnuts
Bake the brownies for 32-36 minutes (If using a 9-inch pan, the bake time will be a few minutes less.). If the toothpick comes out with only a couple moist crumbs, the brownies are done.
Allow them to cool completely in the pan set on a wire rack. Once cool, lift them out of the pan using the overhang on the sides and cut into squares. Serve with some vanilla ice cream or by itself. Enjoy!
Recipe by
Let's Cook Some Food
at http://www.letscooksomefood.com/nutella-brownies-with-hazelnuts/