SCRAMBLED EGGS AND HAM CREPES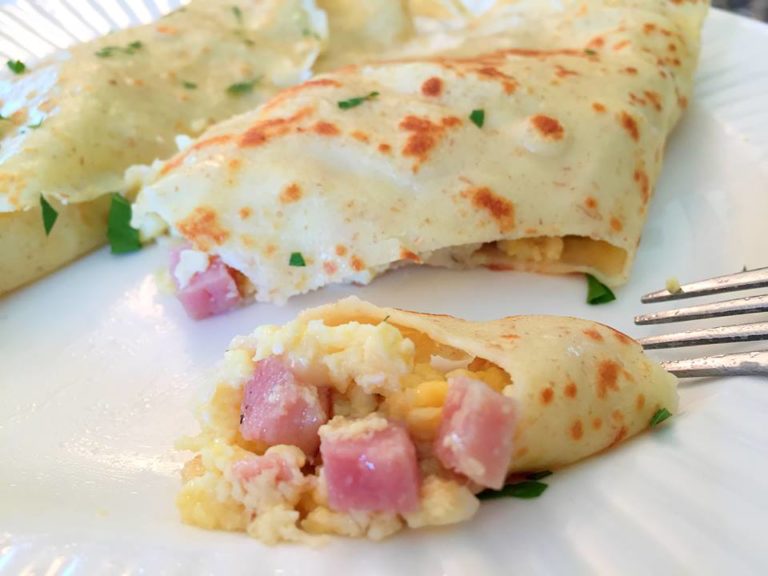 Recipe type:
Savory Crepes
Scrambled Eggs and Ham:
2 tablespoons butter
1 cup diced cooked ham
4 eggs
½ cup of fresh grated Gruyere cheese
a splash of milk
salt and pepper
Savory Crepes:
1 cup Crepe Mix
1¼ cup water
2 eggs
2 tablespoons melted butter
Add 4 eggs, a pinch of salt, pepper and a dash of milk into a bowl. Just remember the ham is already a little salty, so you don't need a lot of salt. Whisk the eggs until everything is combined and the eggs are well-beaten. Set aside.
Add a tablespoon of butter in a medium non-stick pan, medium heat. Once the butter melts, add the diced ham into the pan, seasoning with fresh ground black pepper. Cook for a few minutes. You basically just heat it up as the ham is already cooked. Remove the ham into a small bowl, set aside. Discard any liquid from the pan.
In the same pan, add a tablespoon of butter, turn the heat on low. Once the butter melts, add the eggs into the pan. Continuously use your spatula to push the eggs from one side of the pan to the other. Push in 3 or 4 motions across, then sweep the spatula all the way around the edge of the skillet to create long egg waves. You don't have to do it every second, but keep an eye on it, when it starts to look like it's set, then start to push, again. The eggs are ready when it's no longer runny. It's o.k. if there's a little bit of liquid. It will continue to cook.
Add diced ham into the eggs. Fold gently until mixed together. Sprinkle with some fresh grated Gruyere cheese. Remove the pan from the heat.
Next, make the crepes. Add 2 eggs, 1¼ cup of water, 2 tablespoons of melted butter, 1 cup of Crepe Mix, mix everything in a bowl until combined.
Heat a crepe pan or non-stick frying pan over medium heat. Pour or scoop the batter onto the pan, using approximately ¼ cup for each crepe.
Tilt the pan with a circular motion so that the batter coats the surface evenly. Don't worry about it being perfectly round, it will still taste good either way.
Cook the crepe for about 2 minutes, until the bottom is lightly brown. Loosen with a spatula, turn and let it cook for about another 2 minutes until the other side is lightly brown. Once ready, move the crepe to a plate. Repeat the steps.
To assemble the crepes, spoon the scrambled eggs and ham in the middle of the crepes. Sprinkle with some chopped parsley, or chives (optional).
Fold one side of the crepe to cover the scrambled eggs and ham. Fold the other side. Garnish with chopped parsley (optional). Serve warm.
Recipe by
Let's Cook Some Food
at http://www.letscooksomefood.com/scrambled-eggs-and-ham-crepes/