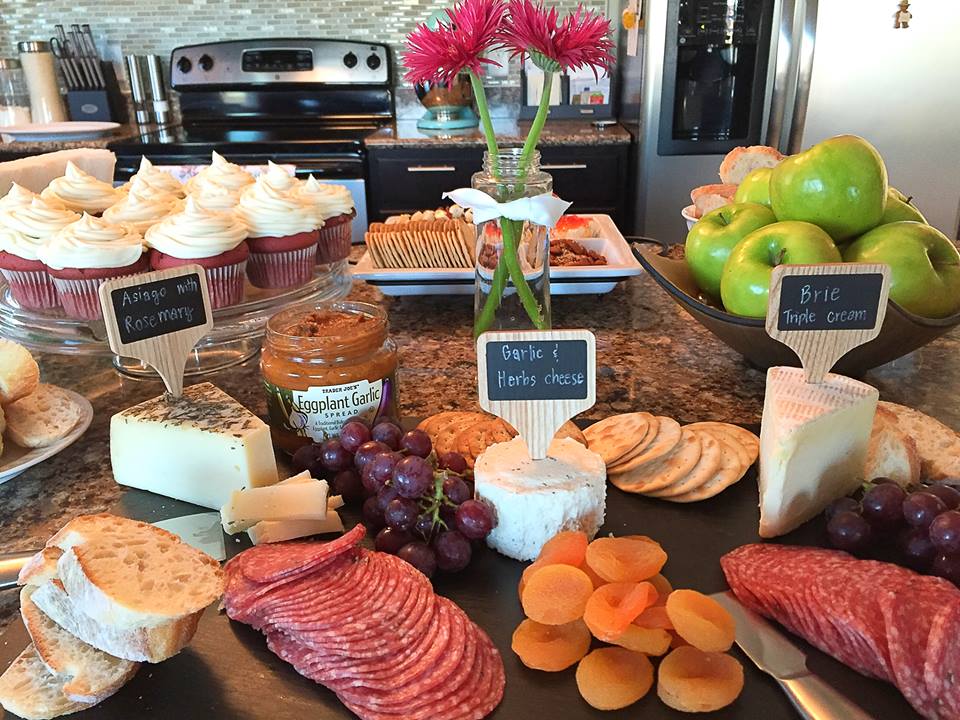 I'm so excited to write this, as one of my friends asked me how to assemble a charcuterie board. I'm not an expert by any means but I'd like to share from my personal experience. In my opinion, a charcuterie board is a good way to keep the guests entertained before the main course and who doesn't like good meat and cheese?
Assembling a meat and cheese platter requires no cooking. I follow a few key principles to be sure it looks impressive and easy, so guests can help themselves.
What kind of cheeses?
I choose an interesting assortment of cheeses. I usually pick one from each category. Some break it down into more but I think 3 is suffice.
1. Hard sharp cheeses such as sharp Cheddar, Asiago, Parmigiano Reggiano.
2. Soft creamy ones such as Carmenbert or Brie, Harvati, Gouda, Chevre, Burrata.
3. Pungent blue cheeses such as Gorgonzola, Stilton, Montagnolo.
If you live in the USA, I found that local grocery stores have mostly up their game and carry many interesting cheese options, both imported and made in the USA. Don't be afraid to ask the cheese chop to taste them and don't be afraid to experiment.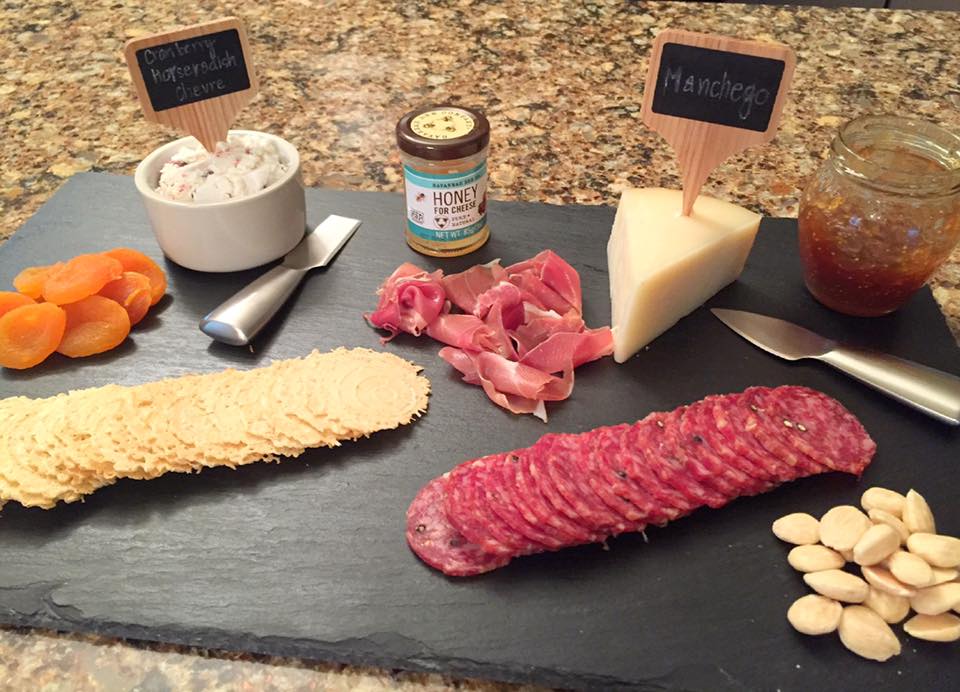 What kind of meat?
I like using cured meat such as Salami (cured sausage) and Prosciutto (an Italian dry-cured ham). Plain, spicy, with herbs or no herbs, it all depends on your preference. We recently served a dill and pepper salami from Provisions by the Grey Plume, our favorite restaurant in our city. They sell the whole block, I bought the whole thing and sliced it myself. Or you can buy the ones that already cut from the grocery store. When we went to France, we had charcuterie almost everyday. They serve terrines, galantines, pates and confit. If you can find them, go for it. 🙂
How much stuff I should buy?
Some say 1 ounce of cheese and 3 slices of meat per person but now it all depends on the size of your party and what else do you serve. If there's no main course and just charcuterie, I'd say let's add more. The first picture above was when we had a New Year party at our house. We had 8 people and no main course, just appetizers, charcuterie and dessert. Now for a smaller crowd of 4 people, we served salad, main course and dessert so we had fewer items, see the second picture.  You don't want to shower them with too much meat and  cheese or they'll be full before dinner is served.
Or the one below, I assembled it for a Sunday wine and cheese night for just 2 people.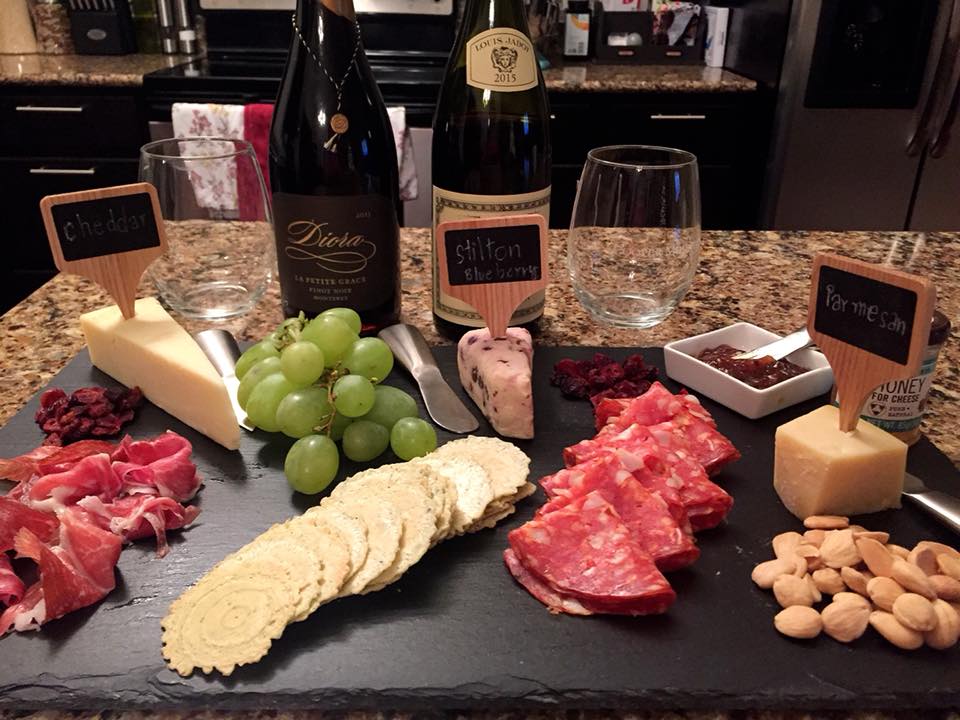 Next one, this was for a girls get together (11 girls) party. There were other snacks as well.
What do I plate them on?
Be sure to have a platter or wooden board that is flat and large enough.
The essential tools, I usually use slate board, cheese knifes (I  like to have one for each type of cheese), spread knife for honey, jam or spreadable cheese and the cheese markers that I use soapstone chalk to write on the chalkboard and stick into cheeses. Not only they are so cute, but also serve a purpose. I think it is the best way to label the different kinds of cheese. You can also write directly on the slate board if you feel like it. 🙂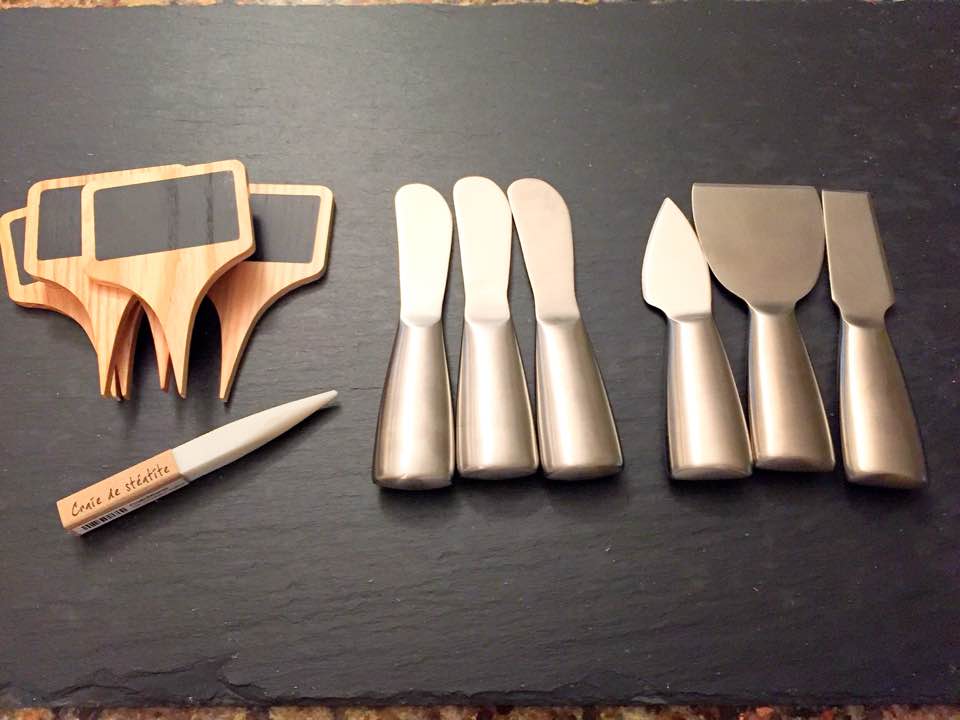 What about fruits and condiments?
I choose simple fruits such as seedless grapes, fresh figs quartered or cut in half. Sometimes, I even use dried fruit such as dried apricots or cranberries. I love figs and when they are not in season, I go with fig jam instead. Honey is also great. Use good honey, I like to serve pure/natural honey for cheese in a small jar. Its unique sweet fruity taste balances the salty sharpness of a good cheese. Honey is good with blue cheese, Manchego or sharp Cheddar.
What type bread or crackers?
To finish the platter, add sliced bread, crackers, bread sticks. Keep them on the plain side so they don't compete with meat and cheese. I love making my own crusty bread. Dutch Oven Bread  is easy and good for any charcuterie board. You can also use store bought French baguette if you don't want to bake.
Are you nuts?
Just kidding. 🙂 Talking about nuts, lately I'm obsessed with Marcona almonds. You can use regular almonds or walnuts or pecans. I like to toast the nuts in a dry pan (no oil) for a few minutes to release flavor and aroma.
How to assemble everything together? 
Group things together. Start with cheeses with the cut sides facing out, meat, then fill in the space with fruits, nuts and jam.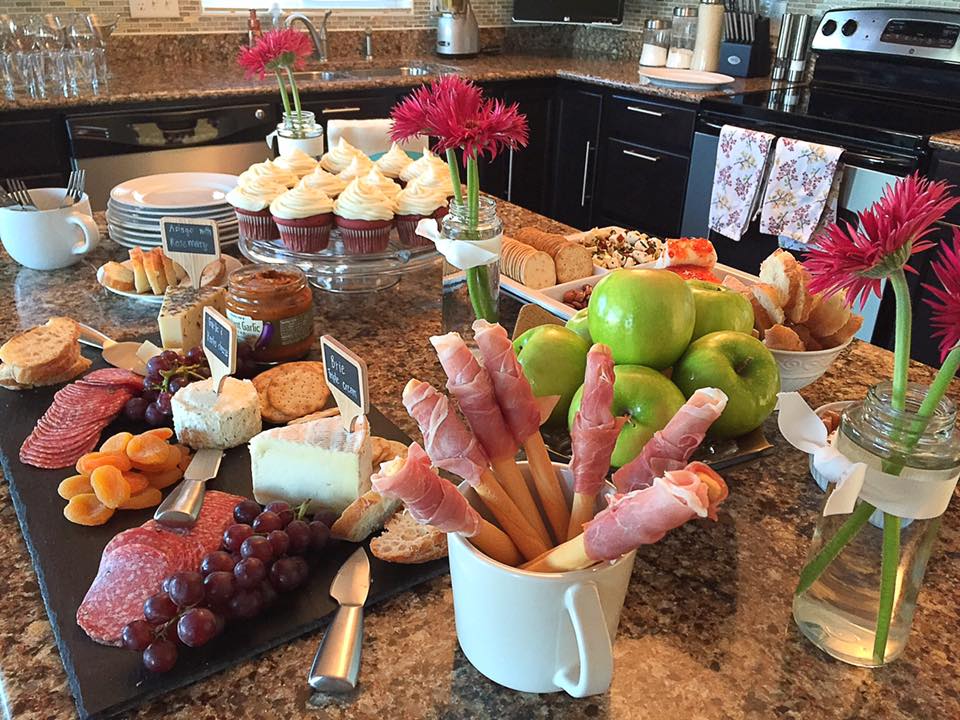 Just be creative, but don't go too crazy. Keep it simple and clean. For example, you can wrap Prosciutto around the bread sticks (see above) and stick them in a mug.  Now they look interesting, this is a party after all. However, I'll admit that when it's just the two of us at home, sometimes, we often eat them from the cutting board. ha ha ha 🙂
When should I put the platter together?
Arrange them about 30 minutes before guests arrive to bring them to room temperature and optimum flavor. Cheese takes longer so start with them first, then meat and the rest.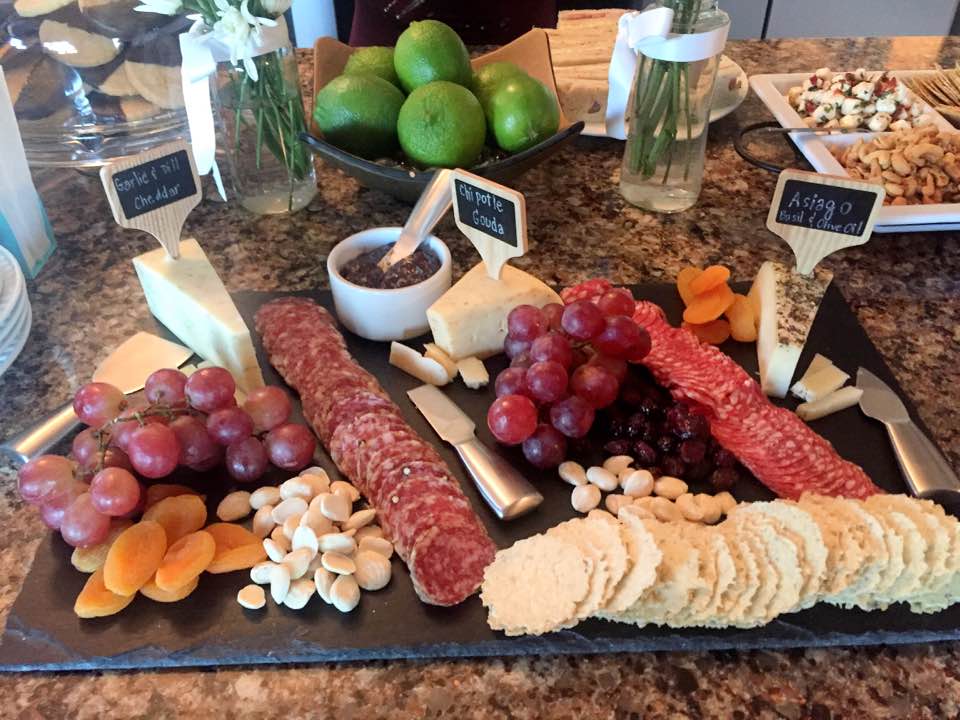 I hope this give you some ideas for your charcuterie board. Please let me know if you have other ideas that you'd like me to share or any comments. I'd love to hear from you. The comment box is below. Have a great party! 🙂