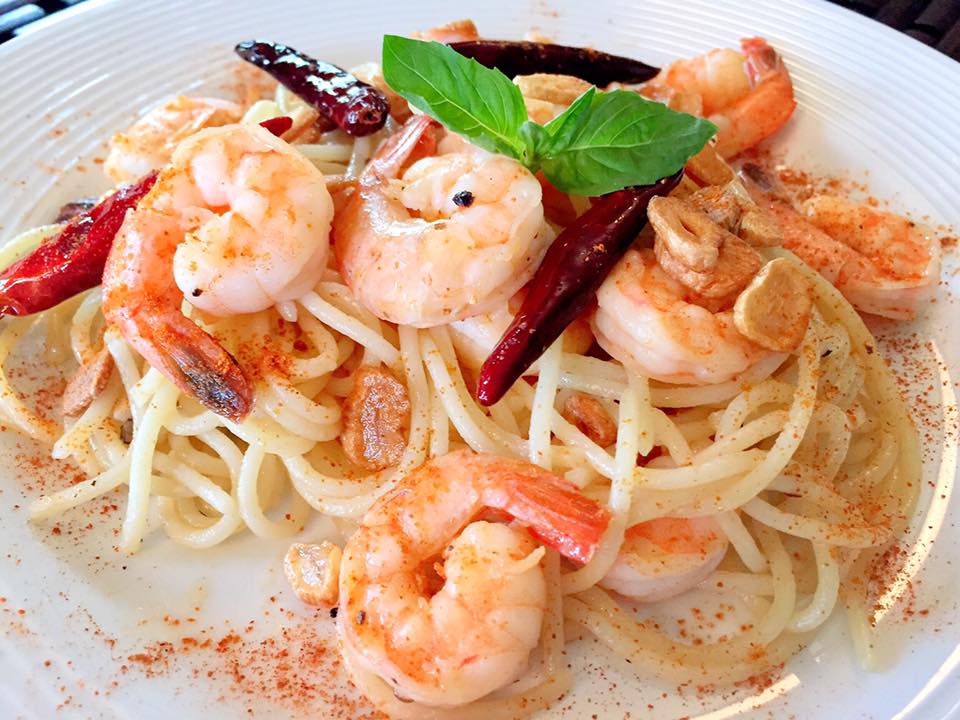 If you like spicy and garlic food, you've come to the right place, my friend. Inspired by our recent summer trip to Bangkok Thailand, this Spicy Garlic Shrimp Pasta is full of flavor and lots of kick. I'm talking about 3 kinds of chillies; dried, Thai fresh chillies, cayenne pepper and some black pepper. The other key ingredient is garlic, both in the pasta and the crispy garlic chips topping. My husband loved it so much that he went for seconds. When I told him it was easy and that I made it in under 30 minutes, this recipe was immediately  approved to be shared to the world.
One thing I love most about Bangkok city is the food scenes. Price ranges suit everyone from street food, to neighborhood restaurants, to the fancy stuff. Most of my friends, including my old self before I came here, do not cook and I can totally see why. Because of the easy access to food. This city of over 8 million people has it all; Thai, Italian, French, English, Vietnamese, Chinese, Japanese, Korean, Indian… everything.  People just LOVE to eat and are very open to food cultures from all over the world. Food is not just food, whether they know it or not, it runs their lives. And as you probably can tell, it runs mine too. ha ha.
I noticed that a lot of restaurants have some sort of pasta dishes with some Thai flare. For example, Drunken Spaghetti with Shrimp that I posted after my 2016 Thailand trip. See the trend here? Every time I go back, I always bring something back with me, and I'm not talking just about Thai tea to make Thai Iced Tea, Thai snacks and all the good memories. I'm talking about the inspiration from something I ate there.
I also have a few Thai dishes (or some, let just say "Thai influenced dishes") posted. If you like Thai food, check them out.
Curry Chicken with Hearts of Palm, Thai Mushroom Omelete, Thai Red Pepper Omelet, Pad Thai, Basil Beef with Fried Eggs, Red Curry Chicken with Bamboo Shoots, Cucumber Stuffed with Ground Pork Soup, Thai Grilled Pork Salad, Grilled Asian Chicken Wings, Fried Chicken Wings in Sticky Honey Soy Garlic, Thai Beef Bowl, Tilapia in Parchment, Thai Chicken Coconut Soup (Tom Kha Gai), The King's Sun Egg, Thai Seafood Soup (Tom Yum Talay), Thai Seafood Quinoa, Stir-Fried Asparagus, Stir-Fried Baby Bok Choy with Garlic and Chili, Stir-Fried Baby Bok Choy with Bacon,  Asian Pork Burger with Sriracha Mayo, Thai Garlic Chicken , Drunken Spaghetti with Shrimp and Yum Goon Chiang (Thai Sausage Salad).
Now let me show you how I make this Spicy Garlic Shrimp Pasta….